Miniature Pancake Load Cell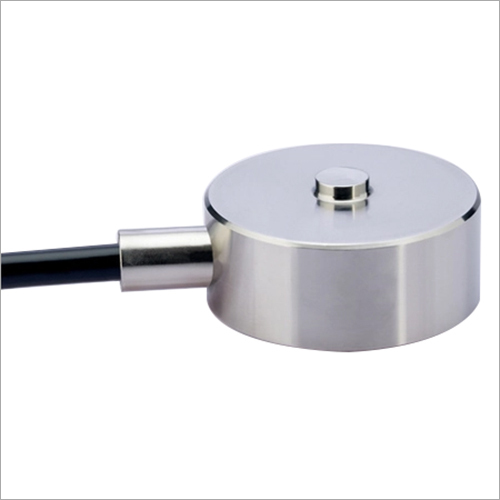 Miniature Pancake Load Cell
Product Description
Product details
| | |
| --- | --- |
| Cable Length (4 Core Screened) | 1 Meter |
| Material | Stainless Steel |
| Insulation Resistance | 1000 Mega Ohms |
| Excitation Voltage | 10 VDC -15 VDC |
| Output Resistance | 350 +- 3 Ohms |
| Input Resistance | 390 +- 10 Ohms |
| Load Capacity | Up to 1TF |
| Brand | ADI ARTECH TRANSDUCERS PVT LTD |
| Shape | Round |
| Nominal Sensitivity | 2 mv/v |
| Type | Pan Cake mini |
Miniature Pancake Load Cell

| | | | |
| --- | --- | --- | --- |
| Model | : | | 90610-MT |
| Capacity | : | | 0 - 50 Kgf to 0 - 1000 Kgf |
| Load Direction | : | | Compression only |
| Type | : | | Pancake Load Cell |
Industries




Robotics
Medical & Health Care
Material Testing
Machine Building
Automotive
Automation Machinery's
Aerospace
Application




Accelerator Pedal Force Measurement
Actuator Force Measurement
Automotive Research
Brake Force Measurement
Clutch Pedal Force Measurement
Materials Testing
Medical Instrumentation
Pedal Force Monitor
Pharmaceutical Machines
Tablet Manufacturing Machine
Description

:

90610-MT is miniature pancake type load cell.
It is strain gage based sensor with temperature compensation over 10 - 60 deg.C.
Features

:

This is very Small size and finds applications where space is constrain.
It is provided with threads for rigidly fixing at mounting surface.
It can be customized to customer's specification.

Electronic Instrumentation / Software

:

Compatible Electronic Systems are available optionally-
Stand alone digital display indicator.
Analog signal converter - 0 - 10 VDC or 4 - 20 mA for PLC interface.
Digital signal converter - RS-232 , RS-485 or MOD BUS RTU Protocol to interface with computer or other processing equipment.
Data acquisition system and software.
For more information ,please contact us.
Trade Information
Western Europe, Eastern Europe, Middle East, Asia, Africa

All India