SINGLE ENDED SHEAR BEAM LOAD CELL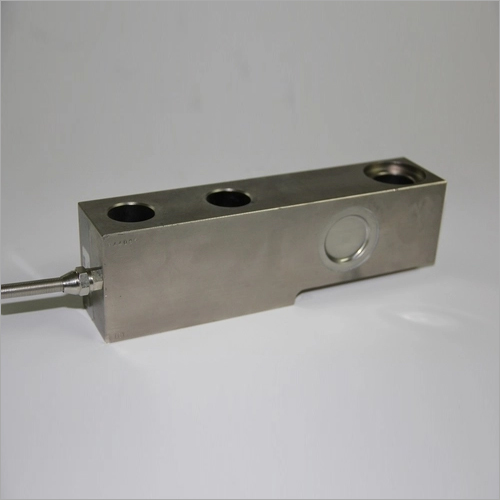 SINGLE ENDED SHEAR BEAM LOAD CELL
Price And Quantity
Product Specifications
LOAD CELL

WEIGHING SCALE, TENSILE TESTING, MACHINE AUTOMATION, ON LINE TENSION MEASUREMENTS
Analog Sensor

STRAIN GAGE BASED SHEAR BEAM LOAD CELL
Product Description
This is strain gage based load cell in bending beam/shear beam configuration
It is designed for multiple cell configuration applications
It is constructed from high alloy tool steel for excellent resitance to shocks and over loads
This cell is sealed for moisture prooffing for use in wash-down areas

Capacities are available from 0 - 50 Kgf. to 0 - 10,000 Kgf. for vide applications.
Also available in standardised output 3.00+/-0.25% upon request for multiple cell applications like floor scale , tank and hopper weighing.
Compatible Electronic Systems are available optionally
Stand alone digital display indicator.
Analog signal converter - 0 - 10 VDC or 4 - 20 mA for PLC interface.
Digital signal converter - RS-232 , RS-485 or MODBUS RTU Protocol to interface with computer or other processing equipment.
Data acquisition system and software.
Compatible Mounting Assembly WM-I is offered optionally.
Product details

| | |
| --- | --- |
| Creep (30 minutes) | <+-0.03% FSO |
| Environmental Protection Class | IP 68 |
| Hysteresis | <+-0.02% FSO |
| Nominal Output | 2.0 m V/ V |
| Temp. Compensated Range | 0 - 60 Degree C |
| Ultimate Overload | 200% of Rated Capacity |
| Zero Balance | +- 1% FSO |
| Excitation Voltage | 10 VDC -15 VDC |
| Output Resistance | 700 +- 2 Ohms |
| Input Resistance | 770 +- 20.0 Ohms |
Trade Information
Eastern Europe, Middle East, Africa, Asia

All India