Stainless Steel Shear Beam Load Cell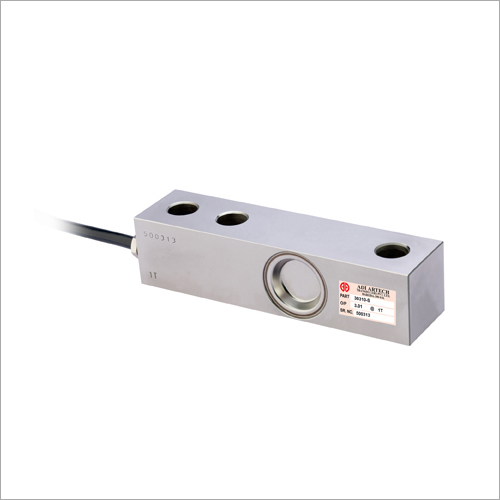 Stainless Steel Shear Beam Load Cell
Price And Quantity
Product Specifications
Product Description
Stainless Steel Shear Beam Load Cell

Model: 30310 Shear Beal Load Cell - Stainless steel Construction
Capacity: 0-50Kgf to 0-10,000Kgf
Load Direction: Tension & Compression: Universal
Type: Low Profile Stainless Steel Shear Beam Load Cell , Stainless Steel Shear Beam Load Cell
Description:
This is strain gage based load cell in bending beam/shear beam configuration.
It is designed for multiple cell configuration applications.
It is constructed from high alloy Stain less Steel for excellent resistance to shocks ,over loads and corossoin.
This cell is sealed with Laser welded SS Cap for moisture proofing for use in wash-down areas.
Features:
Capacities are available from 0 - 50 Kgf to 0 - 10,000 Kgf for vide applications.
Also available in standardized output 3.00+/-0.25% upon request, for multiple cell applications like floor scale , tank and hopper weighing.
Useful in Industries:
Process Industries ,Weighing,Tensile Testing ,Robotics ,Batch Weigh,Bagging Machinery's, Automation Machinery's,Agriculture,Aerospace,
Pharma Industries , Food Industries , Chemical Industries.
Useful for Applications:
Bag Weighing Machine,Bench Scale,Calibration load cell,Conveyor Belt Weighing ,Elevator Load Monitoring ,
Floor Scale,Food Packaging,Force Measurement Tension & or Compression Dynamo meter,Hopper , Tank , Silo Weighing,Materials Testing,On board Weighing ,Platform Scale,Tensile Testing,Tension Force Measurement.
Electronic Instrumentation / Software:
Compatible Electronic Systems are available optionally.
Stand alone digital display indicator.
Analog signal converter - 0 - 10 VDC or 4 - 20 mA for PLC interface.
Digital signal converter - RS-232 , RS-485 or MOD BUS RTU Protocol to interface with computer or other processing equipment.
Data acquisition system and software.
Mounting Hardware:
Compatible Mounting Assembly WM-I is offered optionally.
For more information , please contact us.
Product details
| | |
| --- | --- |
| Deflection | < 0.5 mm at FSO |
| Environmental Protection Class | IP 68 |
| Material | Stainless Steel |
| Material of Construction | Electroless Nickel Plated Tool Steel |
| Nominal Output | 3.0 m V/ V |
| Temp. Compensated Range | 0-60 C |
| Temperature Effect on Output | < 0.0015% FSO |
| Insulation Resistance | >1000 Mega Ohms |
| Excitation Voltage | 10 VDC -15 VDC |
| Output Resistance | 700 +- 2 Ohms |
| Input Resistance | 770 +- 20.0 Ohms |
Trade Information
Eastern Europe, Middle East, Africa, Asia

All India